I just have to share this before I forget to. Ella loves to talk about her story...the story of how we became a forever family. I made a younger child's version of her lifebook for her and she often wants to look through it. Of course...a very big part of her story is how Mommy and BaBa couldn't wait to go to China and meet her and give her big hugs. We took a very long airplane ride over and so on.
Two nights ago we were out taking our walk and there was an airplane flying overhead.
Ella looks up and very proudly exclaims, "somebody is on their way to go and get their new baby"!! I just thought that was the cutest thing.
We have had several babies born in our neighborhood recently and we talk about how some babies grow in their Mommy's tummy and some are not able to stay with the lady whose tummy they grew in and on and on. But I guess no matter what we explain....to her ALL babies come to their families via airplane. lol! Whenever she tells her Ba Ba that she needs a baby sister or brother(that changes weekly) she tells him that we need to go to China and bring home her sister or brother. To which her Ba Ba explains that we have enough kids in our family. lol!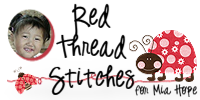 My dear friend, Robin is working so hard right now to bring home their newest daughter from China....via airplane : ) ........right now she is having an auction for a personal seamstress for a year!! Think of all the possibilites......one outfit made each month for a year for your child. Whatever is going on for the month...Valentines's Day, Chinese New Year, Birthday Parties, etc.- Robin will work with you to custom make an outfit that your child will look darling in. Please click on her link above to get more details. This is so exciting!!
Hope you all have a wonderful week-end!
Blessings,